Over the last 90 days, resin market conditions have led to unprecedented challenges for plastic packaging manufacturers and distributors. Polypropylene and Polyethylene resin supply shortages, rising energy prices, and weather-related disruptions have created the perfect storm for massive raw material price increases, shortages, shipping delays, and high freight rates. Major resin manufacturers have had to declare force majeure events for PP and PE production.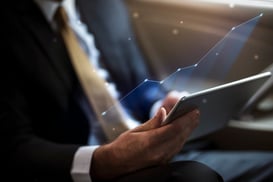 Bulk Bag prices are rising and supplies are limited!
As a result, FIBC (aka bulk bag, Super Sack, tote) prices have risen dramatically and seemingly overnight. Manufacturers are honoring pricing for as little as 7 days and, in some instances, re-quoting business for orders already secured. Until additional resin supply comes online it appears there may be little price relief for FIBC distributors and end-users in 2021.
Why are bulk bag prices rising?
The largest cost component of a bulk bag is resin. Raw materials including fabric, webbing, and sewing thread are derivatives of petroleum-based resins. Consequently, the price of an FIBC fluctuates in accordance with resin prices. Likewise, the price of resin fluctuates with the price and availability of oil.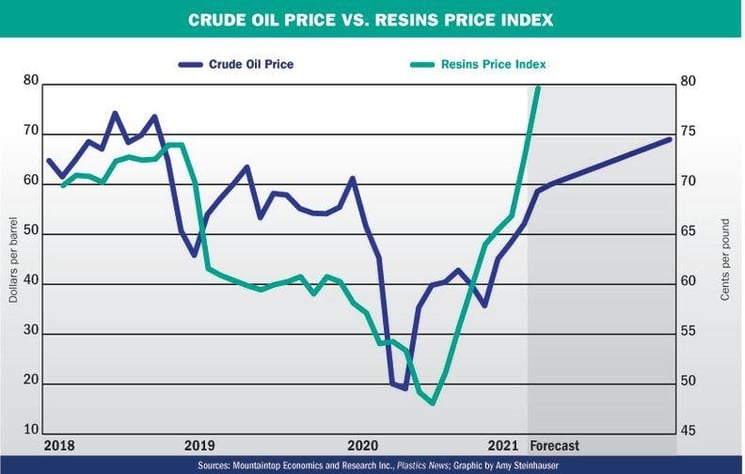 Unparalleled commodity resin price increases are due to a variety of economic factors. Some of the factors for the instability cited by industry professionals include:
Increases in oil prices driving up PP and PE resin prices
Decreased consumption of gasoline resulting in less polyolefin byproducts (feedstocks) which are used in the manufacturing of PP resins.
Resin suppliers getting better margins on molding grade polypropylene resins versus raffia grade resins (which are used to make woven polypropylene fabrics for FIBCs).
Maintenance at some major PP and PE resin suppliers caused a slowdown in resin production.
Polymer manufacturers are not fulfilling the entire order quantity of resin shipments required by the Memorandum of Understanding (MOU), causing shortages.
Polymer suppliers in Asia are exporting to North and South America instead of supplying many of the FIBC manufacturers in India and China.
Unprecedented massive increases in ocean freight rates and inland bound freight rates due to a shortage of ocean vessels and inland truck chassis.
Import delays into the USA due to unprecedented sea container shortages and port congestion around the World.
Unusual storms and extreme cold weather in the southern United States resulting in refinery shutdowns.
Panic buying due to rapidly rising prices and shortage warnings.
Here's a look at PP Raffia prices for the first 8 weeks of 2021:
Date

CFR South Asia

PP Raffia

PP($/ton)

02/24/2021

1,570

02/17/2021

1,460

02/10/2021

1,350

02/03/2021

1,310

01/27/2021

1,290

01/20/2021

1,290

01/13/2021

1,285

01/06/2021

1,270
Other factors contributing to the increase in FIBC costs:
Ocean Freight
Imported bulk bags are shipped from the manufacturing plant to the United States in 20' and 40' sea containers. Ocean freight is a significant cost component of a bulk bag. Freight from India and China to the United States can range from $3,000-$5,000 per container. However, shipping lines have significantly reduced capacity to buoy rates. In the last 12 months prices have nearly doubled for lanes between India, China, and the U.S.
Over-the-road Freight
Once the sea container arrives to the U.S. port, it must be transported over the road to the distributor or end-user's location. Major ports of entry include Houston, Long Beach, New Orleans, and Savannah. Oftentimes, the container may be shipped via rail to the nearest customer rail ramp, then offloaded and delivered via truck.
As diesel prices continue to rise, so will the cost of truck freight. Increased intermodal freight may help alleviate the rise in prices. However, adding rail into the mix will lead to additional lead times in shipping.
How do I avoid costly mistakes in purchasing bulk bags? 4 easy steps
1. Give yourself a lead time cushion
Limited resin supplies are contributing to extended lead times on FIBCs. Ocean transit times are also extending due to limited ship capacity and the availably of empty sea containers. It is difficult to perfectly time container deliveries. Don't run the risk of a stock-out by waiting too long to order.
2. Consider a Vendor Managed Inventory Program
Bulk Bag VMI programs eliminate stock-out risk, price volatility, and improves cash flow. Southern Packaging stocks nearly 1,000,000 FIBCs at our warehouse locations in Texas.
3. Purchase on-demand emergency stock inventory from Southern Packaging vs buying from high price manufacturers domestically
Domestically produced bags are often 50-100% more expensive that imported bags. Southern Packaging stocks over 450 FIBC SKUs and can meet nearly any industrial requirement. Stock bags are available for immediate shipment.
4. Do not time try to "time" the market
All leading economic indicators point to medium to long term elevated FIBC and plastic packaging prices. As the oil and gas market recovers we anticipate higher prices than normal. Waiting for resin prices to recover may result in additional increases.

Utilizing Southern Packaging VMI Programs
Southern Packaging carries the largest inventory of on-demand FIBCs in North America. We stock custom and of-the-shelf bulk bag solutions for a broad range of industrial customers. We invite and encourage our customers to utilize our substantial warehouse availability for all their bulk packaging needs.
For more information contact a sales professional today info@southernpackaginglp.com