A Pasted Valve Stepped End ("PVSE") multi-wall paper bag, is a common industrial packaging style designed to package a wide variety of dry flowable products. Valve bags are packed on equipment that deposits material into the bag via horizontal filling spout.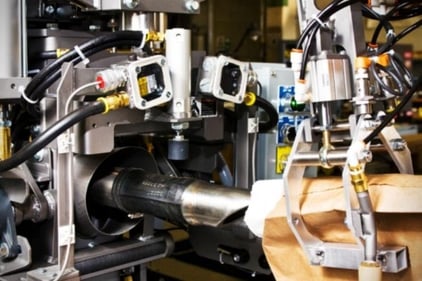 Valve bags are filled through an opening located in the top corner of the bag. Product is pumped or forced into the bag via air pressure, impeller, or auger. When the bag is discharged from the packing equipment, forces generated by the product inside the bag allow the valve opening to self-seal.
Valve bags can be equipped with different valve or "sleeve" types. Each sleeve type performs the same basic function. However, the proper sleeve type for your product and packing equipment needs to be evaluated when designing a valve bag. Continue reading to learn about the 9 different sleeve types and their recommended uses.
1. Double Trap
Separately applied offset pieces of paper and plastic film in the valve opening designed to prevent sifting. A double trap sleeve can be manufactured with a paper/film or paper only construction. This sleeve is designed to prevent blow back during the filling process. Depending on the product being packed, this sleeve type can be very effective at preventing sifting or leakage after filling.
2. Standard Reinforcing Strip
A strip of paper in the valve area which offers some reinforcing qualities to the top of the valve area. The reinforcing strip improves bag strength on packing equipment that does not use a saddle. The additional strength and rigidity does little to prevent product from sifting or leaking out of the valve. This type of sleeve is not recommended for fine powder products.
3. Paper Tube Insert
A strip of paper pasted into the valve opening to make the valve stronger and more sift-resistant. This sleeve type is generally made using 60lbs extensible kraft paper which reinforces the valve but offers limited sift resistance. This type of valve is effective with pelletized products where the bulk density is consistent. This sleeve can have an unglued seam that acts as a slit for short filling spouts. In general, this is one of the most economical valve types.
4. Reinforced Poly-Lock / Polyethylene Insert
Polyethylene film pasted into the valve opening that provides a rigid sift resistant valve opening. The film is typically 1.5mil HDPE laminated to a stiff backing. The backing is generally 33lb liner board. Polyethylene is more flexible than paper and is more effective at trapping product in the bag than a paper tube insert. The sleeve can be slit to improve packing using a short filling spout. Proper bag sizing is key to ensuring this type of sleeve performs correctly.
5. Tuck-In
An outer sleeve extension that is folded and tucked in by hand after the bag has been filled. A tuck in sleeve comes in a wide variety of constructions. A thumb notch may be included for easier presentation on the packing equipment. While this sleeve offers the greatest sift resistance, it does require a higher degree of training and is more labor intensive.
6. Hinged Tuck-In
A specialty tuck-in sleeve type where a separate folded strip of paper is applied to form a deep tucking pocket. This sleeve type may be reduced from the top or bottom size, however, the hinge will match the top or bottom size. This type of sleeve functions just like a standard tuck-in sleeve.
7. Heat Seal
An outer sleeve extension that is coated with film for ultrasonic hermetic sealing. Heat Seal Sleeves are designed to be sealed with a heat seal device (automatically or manually). These devices use hot air, hot bars, or ultrasonic vibrations to activate the coating and create the seal. Both the seal mechanism and the cling properties of the product will dictate the amount of sealant used on the sleeve. The effectiveness of this sleeve is dependent on how well the sealing mechanism performs. These sleeves are not sensitive to bulk density variations and bags do not need to be tightly sized.
8. Heat Seal Double Trap
A specialty sleeve that has a PE/Paper double trap with a heat sealable sleeve placed on top. The heat seal portion should have a specified distance from the tube's edge based on the customer's requirements. This sleeve is used for down line or post-filling operations to eliminate or reduce product from creeping into the valve. When product creeps into the valve area, successful heat sealing can be compromised.
9. Reduced Sleeve
A valve tube opening that is smaller than the top and bottom width of the bag. A reduced sleeve can be paper or polyethylene film (reduced poly-lock). Filling spout size and required bag size may necessitate the use of a reduced sleeve. This type of sleeve is recommended for fine powder products.
Are you in need of paper or poly valve bags?
Our multi-wall paper and poly valve bags are produced with state-of-the-art converting equipment in plants located domestically and abroad. Available in traditional kraft, high performance extensible paper, polyethylene film, or woven polypropylene, Southern Packaging offers a wide variety of bag styles to suit all your valve bag needs.
Give Southern Packaging a call!
Southern Packaging has grown to become one of the premier bulk packaging distributors in the country. We have succeeded by listening to our customers, identifying their needs, and delivering on our promises.
Strategically located near Dallas, Texas, our company buys, sells, and delivers more than 1,100 different industrial packaging products to nearly 900 locations across the U.S.
Our substantial inventory includes all styles of FIBCs, paper bags, UN-certified bags, BRC & AIB food quality bags, Poly bags, BOPP bags, dunnage bags, and bulk shipping supplies.